Christmas is here bring your Christmas cheer!
Two ways to play, it's all up to you;
We know how much, pvp can be rude.
So if you don't like to mash the rtele;
Go off to TOI n'fill your XP belly
Grinches, Santas, Ruldophs abound;
Stockings and even Boss Island be found.
Work as a team, or take care as one's self;
Ensure 'eyemeat' is active, watch for a bind elf.
Plan your meet up and pull bosses away;
Your reward is your effort, loot and XP all day!

Welcome to the L1Justice Christmas 2020 Event!
Those of you familiar with last year, there are some returning mechanics with a twist. As mentioned in the limerick above, there will be other activities you can participate in, if Talking Island isn't for you.
Event Mechanics Short-List:
Talking Island Rudolph Spawns (Tame with Magical Carrot), turn in to Santa in towns.
Talking Island Christmas Monsters
Noob ToS Christmas Monsters & Elixirs! (New Player Christmas Hunting)
Talking Island: Spawn-on-kill - Grinch Fighter
Special Maps: Spawn-on-kill - Santa Clause who can drop Present Sack and Golden Stockings
Enraged Rudolph Spawn at Pandora (every few hours) to teleport to boss islands
Toy Tokens Trade-in: 1-hour poly for all; Essence of Christmas Island (TI dungeon random boss-summon), gold stocking
Tower of Insolence: Increased spawn and 1.3x exp increase on all floors 1-100
Special Varlok added to Christmas Essence spawns that drops LOK Mats!!!
Talking Island (Warp 1):
Talking Island has been once again been stuck by the icy winds and with it the cold creatures of Aden have taken over!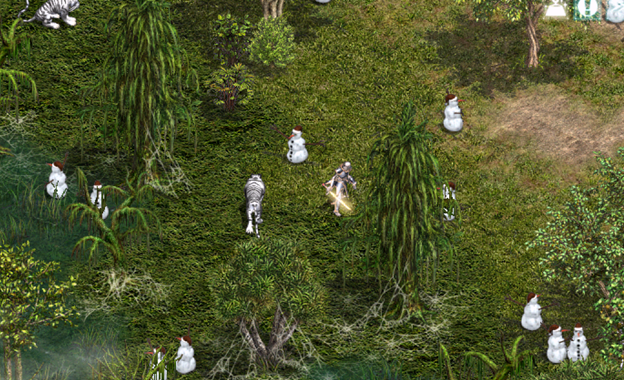 Help preserve the town on Talking Island and save the townsfolk by defeating the cold creatures around, but beware, the spirit of a fighting grinch may appear. In their defeat, preserve the tasty festive treats for tough situations as your reward.
Rudolph is Lost!
Rudolph is lost somewhere on Talking Island, tame one with a magic carrot (from Talking Island's Snowmen) and return him to Santa at participating towns for a reward.
Enraged Rudolph / Boss Island:
Pandora is quite upset that her trade has been hampered by the chaos.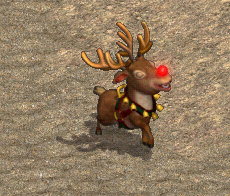 The Enraged Rudolph has been stricken by dark magic and in its rampage it has been causing quite a fuss! Help subdue this creature and restore order near Pandora on Talking Island (Warp 1). Watch for the server bark in your chat box, to know when this creature has gotten loose again.
With the Enraged Rudolph subdued, the magic is released and a portal to a special realm is opened: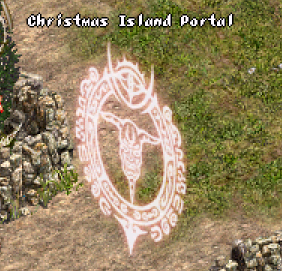 This portal will take you to a special realm, depending on where you wish to go. Players below level 65 can be sent to a special realm where bosses will spawn that they can take on. Players 66+ will be sent to a more powerful realm, with stronger bosses to attempt. Be careful however, this realm is best addressed as a team. Venture in cautiously.
Imposter Santa Clause:
There is an imposter hiding about the land.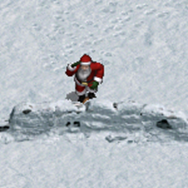 He's been picking the pockets of special bosses to fill his stockings and pass himself off as the real Santa Clause! Bring this fiend to justice when you find, be cautious as he has taken the form of other creatures and needs to be unmasked. Defeat him and may the loot be your reward. This fiend has been spotted in the following zones:
Temple of Shadows (Warp 12)
Cavern of Desire (all elemental rooms and the main hall) (Warp 11)
Sanctuary of Evil
Noob Temple of Shadows (Warp 12)
Noob Cavern of Desire (Warp 11)
All Tower of Insolence maps
Giran Prison (Warp 3)
Forgotten Island (Buy a scroll from Melissa in Aden)
Tower of Insolence Christmas Cheer
The Tower of Insolence has been acting strangely. The people of Aden have been noticing much more activity and strange lights coming from the tower. Bizarre sounds like a kind of chanting, some kind of twisted caroling can be heard around its perimeter. This has the nearby residents in a panic and is likely something that an adventurer such as yourself would be up to the task of checking out.
The Tower of Insolence has had its spawn increased on various floors and has had its experience rates increased. This should be an increased challenge and reward for solo and team players alike. Exercise caution however as that imposter Santa may be about!
Stat T-Shirts:
The rewards for finding the imposter Santas, and helping to return the presents to the real Santa
consist of a Souvenir Doublet and Crystalized Doublet Essence. These items can be brought to Herbert in Giran; he's been made responsible for using the essence to create a blessed Stat T-Shirt for a small fee. Speak to Herbert once you've obtained both items, and he will allow you to make the doublet of your choice!
Event Dolls:
*** Event Dolls will be enabled and obtainable during event ***
Snowman (Green): +1 all stats, +2 bowhit, +2 bow dmg
Snowman (Red): +10% EXP, +50Hp, +15 DR @ 5% proc
Snowman (Gold) +1 all stat +10 EXP, 5mpr
Snowman (Blue) +50 mp, +20 mpr
Reward and Event Items:
While engaging in the event you will come across various rewards for your efforts:
Santa's Helper will reward you for your turning in an Epic Toy Token. You may spread some Christmas Cheer with your fellow adventurers and open up the level 80 Polymorphs for everyone, for one hour, obtain one of either component of the Stat T-shirt items (Crystallized Doublet Essence & Souvenir Doublet), or request the Essence of Christmas Island.
Event Items:


Epic Toy Token



Red Present



Green Present



Blue Present

Event Rewards:


Green Sotcking


Red Sotcking



Golden Sotcking

With a very genuine moment of thanks, I want to wish you all a Merry Christmas and Happy New Year. Please everyone stay safe, no matter where you are playing from in this year of especially difficult times. Thanks for playing here, on Justice.